dear members of the IDOCDE community,
The application season is at large, at least here in Sweden it is. The last couple of months have seen one deadline follow the next. Writing following writing following writing, the only thing that's constant–ly changinig is the required word count.
So I thought I'd write about it. I thought I'd write about writing. Relative to dancing writing, research writing, pedagogic writing, poem writing, feeling, sensing, and action writing. Relative to high expectations. And restricted word counts. And expected writing styles. All to help myself through this period. Considering my writing, I became curious, I thought about yours:
How do you write, when you're writing to respond to calls, to apply for funding, to audition, to document your research? What is your priority in your writing? Is writing an exciting process? Can you afford to write for yourself, to write so that the writing informs your work and your process at least as much as it will inform the reader about what it is that you're working on? Can you afford not to write, I guess is what I'm asking, in the way you expect or assume you will want to be read––even if your assumptions are backed up by years of experience? Can you write not to affirm an assumed stereotype of what "a trustworthy professional adult artist" writes like? Can you write clearly and compellingly, without making your writing necessarily easy to read?
I became conscious of the fact that––as much as I talk to people about their writing practices––I haven't seen many examples of other people's writing. This is especially true when it comes to unfinished and incomplete applications, in+comprehensible drafts. It's as if exposing to a fellow artist your own capacity to write in "the required style" is one step too many in a direction most terrifying; imagine how vulnerable, how fragile that would make you feel. Assuming that it would?
Which is when I thought about myself as a dance student. All those years talking about, stressing about "the required style," practicing it without ever seeing an application form filled out in any... form. I have never even been shown an empty form, either. I have also never been shown a tax form! The first time I saw the tax from is when I had to fill one out, quickly. The same happened with an application form. The first time I saw one, I had to fill it out. Quickly.
This Editorial includes an invitation, a call for the sharing of writing examples complete with your own observations and speculations and reports on experiences, on memories, on processes.
Imagine providing your students and you peers with a folder filled with examples of application forms, writings, complemented with personal reflections and documented experience of handling the forms over different lengths of time? Imagine having access to a folder like that when you're stuck writing?
Think about it. Write about it. Make the club. Join the club. Help all of our students out by sharing your examples. Help your peers and friends and researchers out there, and maybe even the authorities by sharing your experiences. By noting your observations. By creating study mateiral. By creating a reference. By creating a resource.
Think about it.
with this Editorial, i welcome you to the new (academic) year at IDOCDE. welcome!
thank you for your time
pavleheidler for Team IDOCDE
Food For The Day
Featured IDOCs

[deu]

Making Sense through Sensation
Reflektion über einen Workshop zu Dokumentation als Teil künstlerischer Praxis/ Forschung
By
Andrea Keiz
2020.07.10

0

751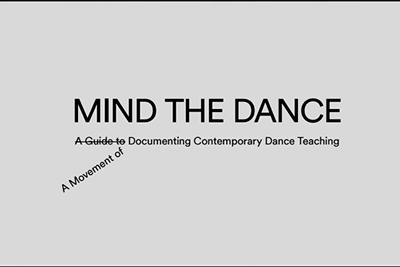 MIND THE DANCE
is a collection of essays, manuals, scores, exercises, and maps; giving voice to a multitude of stances, ideas, and applications in and around documenting movement. It aims to motivate and empower the reader-teacher-artist to use creative documenting to enhance their teaching and artistic practice.
Latest IDOCs