Following from last month's Editorial, this one dives further into analysing, i.e. outlining critically, a possible relationship between talent (traditional) and critical thinking. It also introduces the times of the opening and closing ceremonies of the 7th IDOCDE symposium
Tracing Forwards ––––––––
intersecting (somatic) legacies and future (art) practices.
We hope this Editorial finds you well and we hope to see you in Vienna's Arsenal on the 26th of July, 2019!!!
with love and devotion,
pavleheidler for Team IDOCDE

Food For The Day
Featured IDOCs

My glossary of personal terminology
A personal glossary created during Mind The dance residence in Vienna, July 2018, inspired by "Glossary of personal Terminology" by Bertha Bermudez Pascual / Mind The Dance publication
By [Multiple Creators]
2018.07.27

1

1785

Questions which arrised during the MTD Residency BODIES AS R...
During the 3 days of our residency we created questions from our writings, embodyments and dancings.
By [Multiple Creators]
2018.07.30

0

1385

This year's residencies will be facilitated by Nita Little and Charles Koroneho! The participants of this year's residency are Cléo Tabakian James Oscar Janine Harrington Jessica Gardel Johanna Claus Kristian Larsen Marianna Panourgia Maryam Bagheri Neža Jamnikar Sabrina Huth Giedrė Jankauskienė Val Smith and Wei Xie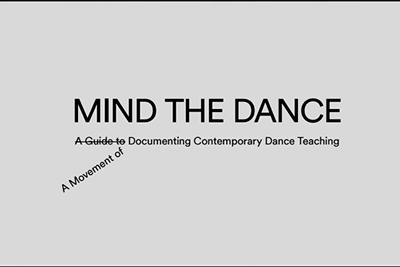 MIND THE DANCE
is a collection of essays, manuals, scores, exercises, and maps; giving voice to a multitude of stances, ideas, and applications in and around documenting movement. It aims to motivate and empower the reader-teacher-artist to use creative documenting to enhance their teaching and artistic practice.
Latest IDOCs