In the newest IDOCDE Editorial, Team IDOCDE reflects on the challenges presented by the ongoing crisis and presents a new plan of action regarding the organisation of the 2020 IDOCDE residency and symposium!
"Challenged by the changing-if-not-growing uncertainty, we–the members of Team IDOCDE–realised that maintaining a commitment to this year's residency and symposium has a sobering effect; the commitment gives a sense of purpose, and maintains a promise of context larger than a living room, larger than a computer screen. This is why we've decided to continue working towards the 2020 IDOCDE residency and symposium."
Please read to learn about the Virtual Place for Taking Space, about how and when to join!
Food For The Day
Featured IDOCs

My glossary of personal terminology
A personal glossary created during Mind The dance residence in Vienna, July 2018, inspired by "Glossary of personal Terminology" by Bertha Bermudez Pascual / Mind The Dance publication
By [Multiple Creators]
2018.07.27

1

3374

Questions which arrised during the MTD Residency BODIES AS R...
During the 3 days of our residency we created questions from our writings, embodyments and dancings.
By [Multiple Creators]
2018.07.30

0

2923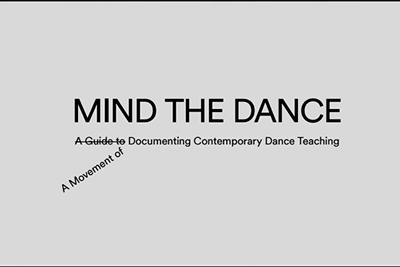 MIND THE DANCE
is a collection of essays, manuals, scores, exercises, and maps; giving voice to a multitude of stances, ideas, and applications in and around documenting movement. It aims to motivate and empower the reader-teacher-artist to use creative documenting to enhance their teaching and artistic practice.
Latest IDOCs