welcome 2022
dear members of the IDOCDE Community,
as many of you, i'm sure, will know (experiencially), nothing these days seems to be going according to plan. as if "plan" has been discontinued from usage, and "good luck" permanently installed in its place. that things are happening nevertheless, often agains the odds, brings inexplicable joy.
be that as it may, anticipation is next to impossible. most of the time we, here at IDOCDE, are staring in surprise at what–of everything we prepared for–came through into existence. we bless the casualties, take a grounding breath, and regroup, reformulate, reorganise, and restructure before trying again. and again. and again.
we hope to be able to tell you how we've been imaging IDOCDE in the future before Valentine's Day. this expression will include the open call to the 10th IDOCDE Symposium that is to take place in the summer of 2022.
until then,
may the force be with you
yours truly,
pavleheidler for Team IDOCDE
Food For The Day
Featured IDOCs

[deu]

Making Sense through Sensation
Reflektion über einen Workshop zu Dokumentation als Teil künstlerischer Praxis/ Forschung
By
Andrea Keiz
2020.07.10

0

2401

Thinking Bodies in Dance. A somatic R.E.A.Ch.
introduction to a Ph.D. in intermedial and somatic dance practices.
By
Klaas freek Devos
2021.02.16

0

1604

Dancing To Silence: Becoming 'Ear-Body'
Dance and music commonly come hand in hand, but many professional dancers prefer dancing to silence. Why is that?
By
Ira Ferris
2021.02.16

0

1409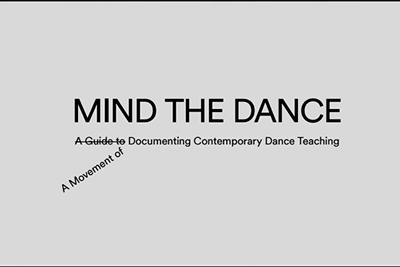 MIND THE DANCE
is a collection of essays, manuals, scores, exercises, and maps; giving voice to a multitude of stances, ideas, and applications in and around documenting movement. It aims to motivate and empower the reader-teacher-artist to use creative documenting to enhance their teaching and artistic practice.
Latest IDOCs