Ashes to Ashes, Water to Words
According to Daniel Levitin we are romantics, if we think that writing emerged for or from art. "The first forms of writing emerged not for art, literature, or love, not for spiritual or liturgical purposes, but for business – all literature could be said to originate from sales receipts (sorry)." Sumerian merchants required an accounting system for keeping track of their inventory and receipts back around 5000 BCE. (2)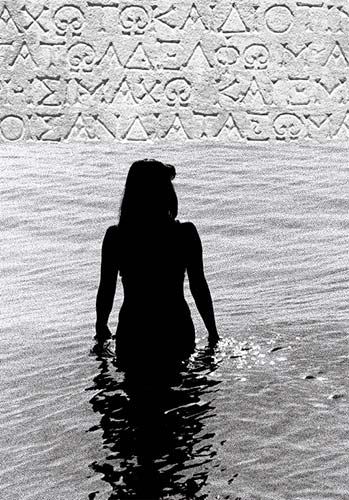 This could be true – or not. Can we trust the documents we have? What about the documents we don't? What is valid? How do we know? Do we need to know? What shapes our "knowledge"? How is it important that we are constantly at work acquiring more information and "playing" with all, in our quest for making "meaning" for ourselves?
Someone said "I do not remember what I ate exactly as meals back in the years, but they have made me up"…
Can I relax knowing that there are books that I read, but do not remember reading? What is it actually that we are doing when we are relating to already existing documents? How much of the information do we remember and make use of? Do writings help remembering? Does writing help remembering? Is it important to remember?
Imagining writings circulating back in time… I am curious how they were perceived back then. Was writing welcomed as a great technological advancement? Useful? Helpful? Promising?
Levitin goes on to answer; it was considered that the externalization of facts and stories meant people would no longer need to mentally retain large quantities of information themselves. These effects were not considered positive. Plato and his King Thamus were the ones who voiced these fears, Greek poet Callimachus agreed stating that books were evil. Roman philosopher Seneca agreed – complaining that his peers were losing time and money on books and stated that abundance of books was a distraction. Further attacks on writing happened in the midst of the 15th century, at the time of the printing press, when the writing multiplied enormously and prints replaced the handwriting. It seems the technological advancement was not celebrated, as we'd think it would today. Erasmus, Leibniz, Descartes were among the ones who were against this proliferation. "In 1600s intellectuals warned that people would stop talking to each other, burying themselves in books, polluting their minds with useless, fatuous ideas. … And as we well know, these warnings were raised again in our lifetime, first with the invention of television, then with computers, iPods, iPads, e-mail, Twitter, Facebook."(3)
I wonder – Have you ever not agreed with all these claims? Have you ever not disagreed with them? Ebb and flow…
I take notes, I write essays, I document my work, I write this editorial… What is happening to me when I engage with all these practices? I think I am quite clear of the effect of all these practices on me and my work – after all these years of reflecting on the documentation practice with IDOCDE community here and after publishing MINDTHEDANCE.com.
I wonder – What is happening to the ones who reach and are in turn reached by our words? What is happening to our words when they reach others?
Our words? Since 2012, in and around these pages of editorials, we have been asking questions to ourselves and to you – the growing IDOCDE community. Back then we defined "us" as – "…a living archive, a source book, a sharing platform, a soundboard, a vehicle that will hopefully help you to reflect on your practices of teaching!"
Then it was Malcolm Manning who took our attention to the importance of video documentation as "…a potent modality for sharing our practice as dance teachers…" and we encouraged and supported uploading of videos to IDOCDE.net. Believe it or not we are still working on this and even looking into ways to "upgrade" our website to be able to make things more easier and user friendly for all of us.
As the seeds of our IDOCDE Symposium were planted at the very onset, with the offline meeting of 150 teachers in Stolzenhagen, we were interested in supporting the teachers – not only in their documentation practice but also in developing their teaching in practice. As a result, we dedicated a project period to expand the network between dance teachers and dance institutions – to be celebrated by Artistic Director of ImPulsTanz, Rio Rutzinger, for both of our initiatives: "And IDOCDE has just super boosted this professional life quality. An amazing garden in full blossom to stroll through, with the invaluable advantage, that no one is there to sell herself or himself, as anyone applying for teaching at ImPulsTanz would understandably do. Instead, in IDOCDE everyone is purely sharing her or his artistry, ways of teaching, means of movement mediation and still joy in the profession. One can wander around in this garden for hours and remain getting drawn into this abundance of approaches!"
We moved on with our symposia and collaborations with other institutions not only through our editorial notices but also via a new bulletin board we have developed.
And yes we have always been political and we are always seeking ways to be more aware of our role in this world as dance practitioners. In order to achieve this task we are willing to hear other perspectives from other disciplines – Philosophy being the most popular… Words of Alva Noe on boredom and Romain Bige's reflection on writing resonate in our pages and beings.
Going back to questioning writing through Bige's words – "Could the writing of dance education and practices find its support in the form of a dialogue? Who intercedes, who supports, the activity of thinking?"–, giving importance to sharing reflections from our Symposia, recalling and utilizing constructive criticisms of Frey Faust, i.e. experiencing to the full the importance of being a collective!Hence expanding our team with the joining in ofpavleheidleras co-editor and the coordinator of our Legacy Project, andMartin Streitbecoming the technology coordinator with his useful hints to help us get better in using our technology at hand.
The expansion continues with – REFLEX Europe – where the thinking, moving and writing is being shared with many interesting, curious and generous people.
In the past 2 years Andrea Keiz shared her expertise on the use of images and video "…to create something that lasts longer than the moment of movement…". Later on in the year she invited us for thinking towards the use of documents in general – are they used, if so: how?
Ulla Mäkinen shared her valuable insights on "…how to document what flows and changes without stopping it, without defining it to death?..." At another time she was suggesting to collect scores for resting almost suggesting an alternative world view.
Eszter Gal in conversation with pavleheidler shared her thoughts on collaboration, documentation and on teaching as an artistic activity within the realm of her IDOCDE – multiple roles, multi-tasking is our reality.
It was Bertha Bermudez who took our attention to the importance of documentation from the perspective of identity politics, belonging and the realities of our global world today, before she shared her ideas on the use of words as it is "as specific as the creation of movement, where choices on the realization of form and meaning are constantly made. Thus paying attention to the terminology one applies within creating practice is essential to empower our own practice."
Poetry of Sabina Holzer, brought us back to the roots – questioning not only our work but also our world. She then took us into the different layers and approaches of being a dance artist – the research, performance, teaching, writing – in Vienna. Inviting us to "keep it real".
As the founder of IDOCDE Kerstin Kussmaul has been contributing to our Editorial reflections for the longest time. In the past year, in line with our symposium's title and our team spirit, she focused on the word compromise: Being in a band is always a compromise. Provided that the balance is good, what you lose in compromise, you gain by collaboration. – Mike Rutherford, founder of Genesis
pavleheidler continued with his reflections on our Editorial site. His reflection on Friederike Lampert's remark on beauty was actually about the value of reflection: "…time for reflection and time for debate can come days, months, sometimes years after the time of observation. This might mean that on a superficial level something of a momentum is lost. But what is gained in the loss of momentum is time for another kind of activity, perhaps a deeper one, perhaps a more articulate one – where language is formed, where reflection is made."
I personally could not let go of the strand of politics as I was practicing the greatest letting go of my life – given the fact that I had to let go of my home country, my job and my practice in the past year. Being very sensitive to the politics of everyday life, working out ways to give more meaning to what has been happening in this precarious world, I could just hope for more collaboration, more collective effort to make this world a more meaningful place to share. And I did find that during the 5th Symposium.
Recalling being triggered by the sharing of Anouk Llaurens back in time, remembering her words on opening to the "awareness to the wisdom of 'the body' ", and now celebrating her wish to create a kind of documentation "that makes space for the new and addresses disappearance, oblivion and death as a creative act and a survival necessity." I have become motivated to revisit the IDOCDE Editorial Archive with this editorial, in order to be able to let go and open towards new action.
The new action, collaboration? Why not the co-curation of our 6th Symposium! The call is ready. We want to take it further together, with you!… We wish to expand… We wish to deconstruct what we have already been constructing and move on!
We are here. So are you! There is nowhere else to go, no other time to be… Let's be!
Defne Erdur, January 2018
(1) The image (Ashes to Ashes, Water to Words by Oğuz Erdur) is from his recent book featuring a hybrid collection of poems, photographic montages, and prose reflections around the themes of love, existential awe, and the quest for meaning. See: Erdur, O. (2016). Stone in Love: Seduction of the Orphan Past. Asheville, NC: Black Mountain Press.
(2) Levitin, D. The Organized Mind : Thinking Straight in the Age of Information Overload. p.13
(3) Levitin, D. The Organized Mind : Thinking Straight in the Age of Information Overload. p.14-15