New Year, New Symposium, New Story
Dear Members of the IDOCDE Community,
Happy New Year!
Whilst I seem to be surrounded by people making new year's resolutions (for better or worse) I find myself daydreaming about the fact that we've left 2018 behind, the year most people referred to as "the reason why injustice cannot be done any longer." How many times have you heard someone say: "you can't say that, it's 2018." "You can't do that, it's 2018!" "Oh, please, maybe in the 50s. But not in 2018!"
2018 is the year that saw the first native-american woman, the first two muslim women, and the youngest woman (amongst others) elected into the Congress of the United States of America. 2018 is the year in which Canada became the world's largest economy to legalise the use of marijuana.
2018 is the year that has also elected a president who took it upon himself to "remove concerns regarding the LGBT community from being considered by a new human rights ministry hours after his inauguration" and who has already been named the largest threat to the rainforests. Possibly: ever.
2018 has been a big year for Brexit. The UK is currently scheduled to leave the EU at 11pm UK time on Friday, 29 March 2019. According to the BBC, "The European Court of Justice ruled on 10 December 2018 that the UK could cancel the Article 50 Brexit process without the permission of the other 27 EU members, and remain a member of the EU on its existing terms, provided the decision followed a "democratic process"."
So. Whilst I seem to be surrounded by people making new year's resolutions, I find myself asking the following question: Where do we… no, not where. But how. How? How do we continue working, and what do we continue working on, when the world around us is in peril. As I've heard people say, "the jury is still out on that".
In the meantime, I am excited to be able to announce that IDOCDE does go on, with the yet-to-be-titled 7th IDOCDE Symposium will take place on July 26-28, 2019 at Vienna's Arsenal. Pencil those dates in your calendars now!
Our preparations for the symposium are developing at a different pace, compared with previous years. The reason for that is simple: since we are currently not responsible to anyone else but ourselves and this community, we took this opportunity to reexamine our purpose. Our reexamination will probably continue over the course of the next couple of years, because time is of essence and the matter is delicate.
In our process we will be extremely sensitive to your needs, dear members of the IDOCDE Community. During these times, every one of your constructive feedbacks, every one of your constructive report will be of essence.
We are also sensitive, more than ever, to how you use IDOCDE.net. This means that we are trying to learn both from what you tell us regarding the way you approach IDOCDE.net as one of your resources, and from statistics that the website itself keeps track of. So please, do use IDOCDE.net, in the attempt to inform us of your interests and needs.
In conclusion, foreshadowing the topics of research Team IDOCDE might be focusing on in the coming months, I give the word over to Defne Erdur, and her wonderful meditation on the notions of home, creativity, and dancing. Because how, ladies and gentlemen, do we approach dancing in 2019?
With love and devotion,
pavleheidler for Team IDOCDE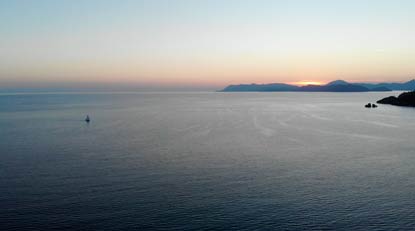 SunDance by Defne Erdur
I was wearing very warm clothes, tucked-in under a warm blanket when the sun set for the last time in 2018. Warmth, makes me feel guilty sometimes…
Are you warm enough, are you feeling at home as you are reading these lines?
Under that blanket, I could not smile. I could not cry. I laid. I slept. I woke up to stare at many "new" sunsets of the "new" year. Day after day...
Today, I found myself up, dancing?!
Was it the sun pulling me down? The present sun over Lyon-France? Was it the past sun in Jaffa-Israel? Maybe still that sun in Fethiye-Turkey? Or the future sun in Nelson-New Zealand? Dancing moves me across the globe.
Sun. Dance. SunDance: a hidden paradise by the Mediterranean Sea, where the mountains meet the ancient ruins. There, in Antalya-Turkey, long ago I danced many liberating dances. There I found my roots, my callings. I do not know if those dances are still in me anymore. I do not know if dance itself is liberating anymore.
I feel heavier. I do not feel as safe, as comfortable and as free... Yet again, I dance. I cannot not dance. Like the sun cannot not rise.
Can you? Do you feel welcomed to dance?
The sun in Lyon does not seem as heavy as it feels. I try to adapt to its dance of light and colours behind the church tower. For 2 years now, it feels like hanging in the air — without the Mosque silhouettes, prayers and the seagull sounds. Even the smell of the sunset is not the same, especially in May.
How does your sunset? Does its dance feel familiar? Does it call you to sing?
The sun of Fethiye, on the last day of Fall in CI-Turkey, sinking behind a sailboat asked me to sing in Turkish:
"I stare after the ship.
I cannot throw myself into the sea,
the world is beautiful;
virility seated on my head, I cannot cry."
I felt the chill deep deep in my bones? This bay of my childhood. My home. My dreams coming true, are they all leaving with that boat already?
How many dreams drifted away in boats, I wonder. I cannot not cry. Virility? I wonder.
Virility: Borders and orders. Immobility at stake. For me for sure. As a Turkish citizen, I have to apply for a visa in order to be granted access to more than 120 countries on this planet. Plus the ten I cannot enter because I traveled to Israel last month and I now have the Israeli visa-stamp in my passport. Plus the countries that require long and complicated processes to enter and end me up canceling my trip. I just missed a teaching trip to New Zealand.
Do you know about the dance scene in Turkey, New Zealand or in Israel? The sunsets there?
In Israel, in Jafa, the sun feels very full, very heavy — contrary to the hearts of the impressive people. The Muslim, Christian, Jewish, or Atheist; Arab or European origin; calling themselves Palestinian or Israeli. My heart resonates with their resilience. I am in awe, full of respect. We are alive. In December I survived deep, intense conversations followed by dancing: Confessions of serving in the army for years, followed by the most delicate, vulnerable dance. Not believing in God, dancing with the Gods around. Dancing the nightmares of a mother escaping the holocaust; dance of fear to be set homeless, to be set breathless, to be left behind. I recalled the stories of my own Greek-Albanian great-grandmother, who had to witness the death of her own brothers as they were forced to move to Anatolia (today's Turkey) during the Balkan Wars. Sisters spoke Greek among themselves, did not teach it to their daughters. My other great-grandmother's family were from "somewhere" within the former Yugoslavia. She did not speak much.
I speak. I talk quiet a lot — in Turkish to my French husband. I still could not "learn" French. I am having difficulty be at "home" in this soundscape. Translation? I recall Freiburg CI Festival sunset. I had 5 mins to present something. I decided to talk less and to share more. I shared those minutes with other "others" — Arabic, Russian, French, Turkish, Greek, Hebrew we spoke. We did not seem to need translation.
How many native languages can one have? How many languages do you speak? In how many languages do you feel at home?
Under that blanket, I did not feel at home. I could not feel at home in my body.
How can one feel at home in their own skin? What would be the sensations, emotions, images, sounds, stories within and without? When was the last time you felt at home?
I felt at home when I was working with the Arab women in Umm al-Fahm, close to Haifa. I was light. My heart beats were fast. Arab, Turkish, Hebrew, Portuguese, French, Spanish, Ukranian, Finish, Italian co-existed… We danced. We laughed. We found that liberating smile in our hearts in a spur of a moment, with a swing of an arm. Then I cried… I cried crowded:
Why would anyone have to defend their home? Isn't home just to feel warm — not to feel guilty?
Guilt… Shame… Could they be about forgetting the rise and just setting the sun(s) and letting all the dreams unseen go aboard?
I rise. I bow down. I bow over and over to all the beautiful souls above the troubled lands. I rise. I bow to their resilience. I rise. I bow to their capacity to just be and dance and dance and dance. I rise. I bow to the troubled land: the tight metaphor of the whole mess in my heart, in history, and this planet. I bow as a gesture. I bow as a movement. I bow over and over… A choreography? What kind of choreography?
All is random, all is chaos. There is no composition in mind and yet there is a compositional mind -- allowing space and time for co-existence of differences, that calls for dissensus, that all bodies, all languages, all dreams can feel warmly welcomed, safe and encouraged to be themselves. There, there is "us" without anything being "ours".
Here, here is my words coming to a rest. I start feeling the warmth of the sun in me.
Here, on idocde.net so many languages, so many opinions, variety of interests, multitude of dances are; words eventually turn back to bodies through symposia; flux of the workshops, performances, presentations, festivities, informal exchanges with no expectations or judgements. I recall that compositional mind. I recognise "us".
"Us": 1500 moving, reflecting bodies. Here. Today.
Could it be "us" rising the coming sun(s) of the coming day(s) of the coming year(s) and feeling the warmth unabashed?

10-11/01/2019, Lyon-İstanbul