Revisiting Our Reality
"Those who studied in ancient times governed their minds, students nowadays deal with the traces. The difference between the mind and the traces is as that between sky and earth."[1]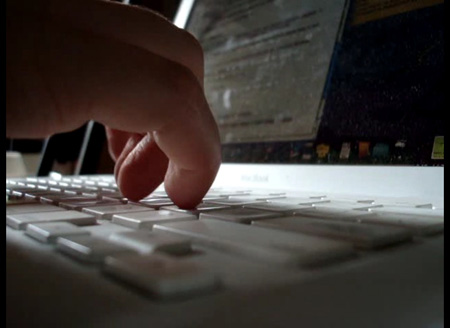 Hmmm… Wonder and wander:
- Which traces do we follow?
- What kind of traces do we wish to leave behind? Do we wish to leave traces?
- What is there for us to govern our own minds, "help" others govern theirs?
- Is there a way to bridge the gap between sky and earth as we are dancing everyday in the very gap?
(How can I not be pretentious writing all this!? PAUSE & REFLECT: Mike Rose defines writer's block as "an inability to begin or continue writing for reasons other than lack of basic skill or commitment"[2]. STOP REFLECTING AND BREAK IT. CONTINUE… JUST MOVE YOUR FINGERS.)
Following IDOCDE teacher Marta Ladjanski's "Finger Steps" – keep on writing and sharing and let the dance surface up! If we dancers are really the people who have to move to think, as Ken Robinson emphasizes in his TED talk "How Schools Kill Creativity", we shall not stop moving. And yet give our fingers the credit to be dancers and make choreography on keyboard, for IDOCDE's sake!
(Am I being too pushy in the name of motivating?! PAUSE & REFLECT: "Cut out all these exclamation points. An exclamation point is like laughing at your own joke." F.Scott Fitzgerald Hmmm… COME ON. WRITE. WORD AFTER WORD… "A word after a word after a word is power." Margaret Atwood.)
Talking about power – according to Pavle Heidler's notes following the Stockholm LEAP Teachers meeting that has taken place on February 22, 2014, "one of the most discussed and thus relevant of topics was: questioning teacher's authority, and through that: questioning teacher's status".
(Wonder why the 2nd IDOCDE Symposium is titled "Teach me (not)!" and why Pavle, in his symposium propositon "On Teaching and the Importance of Being Not" deconstructs it:
"What is placed to the front of the title is an imperative: teach me. This imperative implies, however theoretically, that the one making the demand is directing him or herself to someone else; the one making the demand is speaking to the other who is, at the time of utterance and by the utterance, presented as a superior. "Teach me" implies that we (still and habitually) see knowledge as that which is passed on through man-made action".
However, a great answer to a "teach me" phrase echoes among IDOCDE forums :
"I don't know" says Amy Matthews. "one of the most knowledgeable teachers" Roos van Berkel knows, "who was not afraid of recognizing and admitting to what she did not know."
(Or maybe she knew and chose to help the students govern their own minds. Who knows?! And who knows what a teacher knows, what a teacher really does, what a teacher intends to teach? What a teacher thinks? Well well… Deep deep in the well…)
On that, a very poetic and sincere teacher "confession" lays in IDOCDE virtual pages. Stephanie Maher writes; "It feels like a cloud and a waste of my day. It is like when you want to tell someone something that is a bit difficult and you rehearse it in your head over and over, what it might be that you say to them. The words you do exchange with this person are a complete surprise and nothing you rehearsed. A wasted day." And more…
Yet another good old founding IDOCDE teacher Jan Burkhardt challenges this "wasted day" from a student point of view and emphasizes the value of the flexible, adjusting teacher model in his idoc "enthusiasm as essential quality in teaching" :
"…Peggy Hackney … with her fine-tuned and reflected yet very present and open-for-the-moment-design of class."
There are many many more triggering quotations and questions around the art of teaching in our site. Especially the latest symposium proposals are impressive and have given cold sweating moments to the Project Team to make decisions for the 2014 Program. I have here the privilege to thank all the teachers who have come up with great propositions and even inspired us towards thinking for the 2015 Symposium.
(Patience. One symposium at a time… The 2014 Symposium Final Program will take its place on our site in May 2014 and the registrations will also start in May facilitated at www.impulstanz.com. Yet you can still check the for general information here ).
However many IDOCDE teachers do not wait for the Symposium to come, they have already started to utilize the LEAP opportunites to collaborate and document what they are on these days! Anne Garrigues; Juliette Dürrleman (FR); Andrea Boll, Simon Wehrli (CH); Kerstin Kussmaul, Sabine Holzer (A) have already met in Zurich for the first LEAP TR Meeting. Pia Lindy, Elina Ikonen (FIN); Maria Ines Villasmil; Robin Berkelmans (NL); Pavle Heidler, Francesco Scavetta (S); Eszter Gál (H/A) will be meeting in Amsterdam in July. Curious for the idocs to come?! While waiting you can peek thru the questions they were wandering around.
And why not going ahead and starting to collaborate within your own communities or with IDOCDE teachers? There are more than 638 users of IDOCDE as of today. Fetch one and do something. The other 636+ will be waiting for the online sharing. I am telling you it is fun visiting each others classes and reflecting on them together and come up with various idocs to share (can be an interview after class, can be participant observations, your own class plan and modifications that were needed along the way, maybe a drawing, a poem, a question, an idea…) Or just use exercises from an already existing idoc and compare your outcomes with the author of that idoc.
You do not know what to document and how to do it? What is descriptive, what is reflective? Trust your intuition and get out of the way! Come on, the scientists are daring to dance these days (John Bohannon- Dance your PhD) we can give it a chance to get a bit "brainy" here, yet artistic by definition. If you get lost we are all here to help you out. There are Forums to discuss; Tutorials, FAQs to guide you in the Help session. You can also tag your idoc incomplete and ask all IDOCDE teachers to feedback and support you.
(Talk is cheap dear... Get real. PAUSE & CONFESS: Starting a document may indeed be difficult and completing it even more difficult. But who says that we need to finalize idoc's immediately?! I proudly declare that I have attempted documenting Nici Rutrecht's workshop one year ago, interviewed her, took class notes and yet all my reflections are still waiting to be online. I am rushing around to teach, to write applications, rehearse, massage and what not?!… and I do not have as much quality time to finalize all that. Even for my own work; IDOCDE teachers Helena Hrotko and Sonia Ntova visited my workshops and gave me amazing feedbacks around my teaching and these too are not ready to be shared online. Maybe I did not choose the right format. Maybe I did not need to write much and just upload photos and images? Hmm…
No matter what, I can not yet create the time for these idocs! Under these circumstances I do agree with Dorothy Parker; "I hate writing, I love having written." But still drafts are here –hidden– and the process of sharing have informed and fed me so much. Time will come to complete them and unill then I will keep on reading idocs…)
Basta! Pointing at dance & teaching, at documenting and even at writing itself I shall end this long editorial with some mobilizing news:
LEAP - Teaching Across Borders Applications are now open!
Do not miss these teaching opportunities. Check the eligibility criterias and contact me -at defne.erdur@idocde.net or simply send me a message via idocde mailing system- for me to "dot" your status to "eligible". Then contact the LEAP Partner Organizations with your propositions and travel from & to LEAP partner countries to teach what you teach.
Grenoble has already published its Call for Applications.
Till we meet in Vienna for our 2nd Symposium "teach me (not)!" enjoy the dance between the earth and the sky! And do not forget the dance of the fingers…
Defne Erdur
İstanbul - April 5th, 2014