Hello… What are you doing here?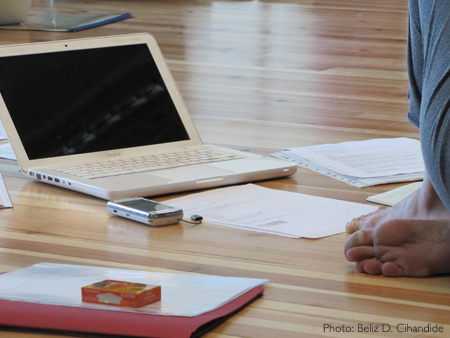 Who are you?
Why are you reading these lines?
What are you doing in this life?
Dancing? For sure!
Writing? One way or another…
Capturing images? With the blink of an eye or maybe with the click of a shutter…
Talking? Listening? Thinking? Leading? Following? Watching? Reading? Analyzing? Sensing? Giving? Taking? Feeding? Feed backing? Recollecting?
Nothing?!
Do you have a question – for yourself or for the ones around you?
Who is around you? Friends, family, students, teachers, colleagues, children…
Are they curious in what you are doing?
Are you curious in what they are doing?
Are you curious in what you are doing?
Do you know what you are doing?
Do you think it is necessary to know what you are doing?
Do you want others to know what you are doing?
Are you already tired of seeking answers?
Not up for raising more questions?
We hope not!
Cause we are here together, to stimulate more questions and seek for more answers…
We?
- the people moving on this slippery ground called Contemporary Dance
- the movers who do not only manifest but also share their ways to move; observers who do not only look but also share their ways to see
- the teachers, who are never ending students, who are willing to learn from each other, who are constantly defining and redefining "learning" and "education"
- the founders of idocde, who come from very different cultures, backgrounds and disciplines, who have different expectations and understandings
We are the ones who have been trying to create this common ground to document and share our know-how all around the world.
We… would like to welcome you now, to this living archive, a source book, a sharing platform, a soundboard, a vehicle that will hopefully help you to reflect on your practices of teaching!
If you are curious to know more about us feel free to stroll through the Teachers.
To get a glimpse from the creation process of idocde, you can have a look in the idoc "Back in the Kitchen". If you are willing to join idocde, please click here to fill in a signup form [link works only if you are not already logged in]. Yet a newly invited teacher, you should go ahead and start using idocde, therefore you can check "Creating an idoc" [link works for teachers only] to lead you the way.
However, if you only prefer to rest back and just read and watch, enjoy!
I wish you a joyfully serious & seriously joyful journey around your teaching and making use of idocde!
Bon voyage!
Defne Erdur
May 2012